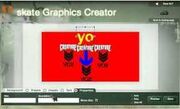 The grapich creator was a feature in Skate 2 and Skate 3. The players who connected their console accounts with the EA services ware able to create their own logo for their T-Shirts, Skate Boards and the Skate.Park billboards in Skate 3. In Skate 3 there are a number of logos that the players can use as their team logo however they can also create their very own using the website these will later appear on the advertising billboards and stickers on around Port Carverton.
Ad blocker interference detected!
Wikia is a free-to-use site that makes money from advertising. We have a modified experience for viewers using ad blockers

Wikia is not accessible if you've made further modifications. Remove the custom ad blocker rule(s) and the page will load as expected.