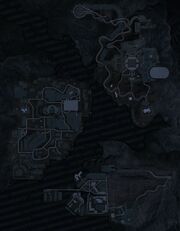 Skate 3
takes place in the fictional city of Port Carverton, which embraces skateboarding, unlike the "skateboarding is a crime" mentality that permeated the second game. The city was built around a Quarry, and includes 3 areas to skate: the University, Downtown, and Industrial Districts made up of their own core areas in each. Several notable skateboarding pros appear throughout the game such as
Darren Navarette
,
Terry Kennedy
,
Eric Koston
,
Jason Lee
, and several others, and through the game it is hinted that all skaters have migrated form New San Vanelona to Port Carverton. It is also a much more colorful and happier place than Skate 2's desaturated, grainy streets, although the skating still provides the overall feel given off by the first & second games. There are 16 Own the Spot's spread across the map, 6 in the Downtown District, 5 in the Industrial District and 5 in the University District. Port Carverton was established in 1800.
Ad blocker interference detected!
Wikia is a free-to-use site that makes money from advertising. We have a modified experience for viewers using ad blockers

Wikia is not accessible if you've made further modifications. Remove the custom ad blocker rule(s) and the page will load as expected.