is a skateboarding video game developed by EA Black Box and distributed by Electronic Arts as a sequel to the 2007 game, Skate. Skate 2
was released in January 2009 on PlayStation 3 and Xbox 360.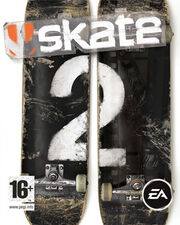 Gameplay
Edit
Gameplay in Skate 2 is disimmilar from the Tony Hawk franchise as you use the analog sticks to perform tricks which is more realistic than tapping button wildly. Tricks consists of ollies, nollies, kickflips, foot plants, inverts, hippy jumps and more.
The new thing in Skate 2 is that you can now get off your board and move objects around.
Skate 2 is set on a fictional city called New San Vanelona.
Ad blocker interference detected!
Wikia is a free-to-use site that makes money from advertising. We have a modified experience for viewers using ad blockers

Wikia is not accessible if you've made further modifications. Remove the custom ad blocker rule(s) and the page will load as expected.