is a skateboarding video game developed by EA Black Box and distributed by Electronic Arts as a sequel to the 2007 game, Skate. Skate 2
was released in January 2009 on PlayStation 3 and Xbox 360.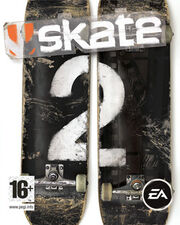 Gameplay
Edit
Gameplay in Skate 2 is disimmilar from the Tony Hawk franchise as you use the analog sticks to perform tricks which is more realistic than tapping button wildly. Tricks consists of ollies, nollies, kickflips, foot plants, inverts, hippy jumps and more.
The new thing in Skate 2 is that you can now get off your board and move objects around.
Available Characters
Edit
Pat Duffy
PJ Ladd
Mark Appleyard
Colin McKay
Marc Johnson
Jake Brown
Dennis Busenitz
John Cardiel
Alex Chalmers
Ryan Gallant
Jerry Hsu
Ray Barbee
Mike Carroll
Jason Dill
Rob Dyrdek
Ryan Smith
Terry Kennedy
Brayden Szafranski
Darren Navarrette
Danny Way
Chris Haslam
John Rattray
Lucas Puig
Eric Koston
Chris Cole
Skate 2 is set on a fictional city called New San Vanelona.